In my post about winged liner, I was using the Naked Basics 2 palette. Tracy left a comment how she needed to rebuy a Naked Basics palette. That gave me the idea to do this comparison!
The Naked palettes are huge. From 1-3, and both of the basics. Urban Decay shot a slam dunk when they released this line. I love all of the palettes (except 2. I don't have that one–yet!), but I think the Naked Basics 2 is my favorite, everyday palette. No shimmer. No fuss. Great neutral, matte shadow. Yes, please!
So–if you're in the same boat as Tracy, this post might peek your interest. Here's the run down on the Naked Basics original vs. Naked Basics 2.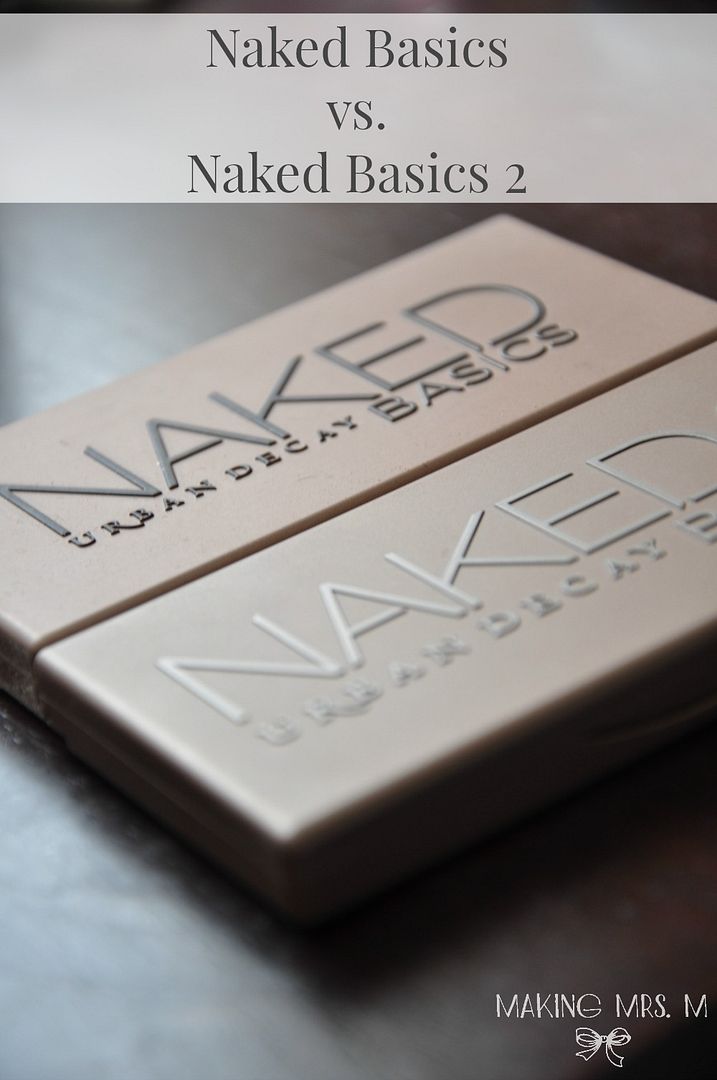 [the_ad id="4340″]
I love that both of these palettes have neutral matte eye shadows. In the photo below, the Naked Basics original (NBO) is on the left, and Naked Basics 2 (NB2) is on the right. NBO is cooler than NB2, but I don't find either set of shadows overly cool or overly warm. I think both can compliment every skin tone well.
NBO includes: Venus, Foxy, Walk of Shame (W.O.S.), Naked2, Faint, & Crave.
NB2 includes: Skimp, Stark, Frisk, Cover, Primal, & Undone.
In the next photo, NBO is on the left, and NB2 is on the right. The corresponding shades are next to each other, for comparison. As you can see, both palettes are similar in shades. I'm going to break them down by color, pigment, and texture. I'll be working my way from lightest to darkest shades (in the photo below from the bottom up).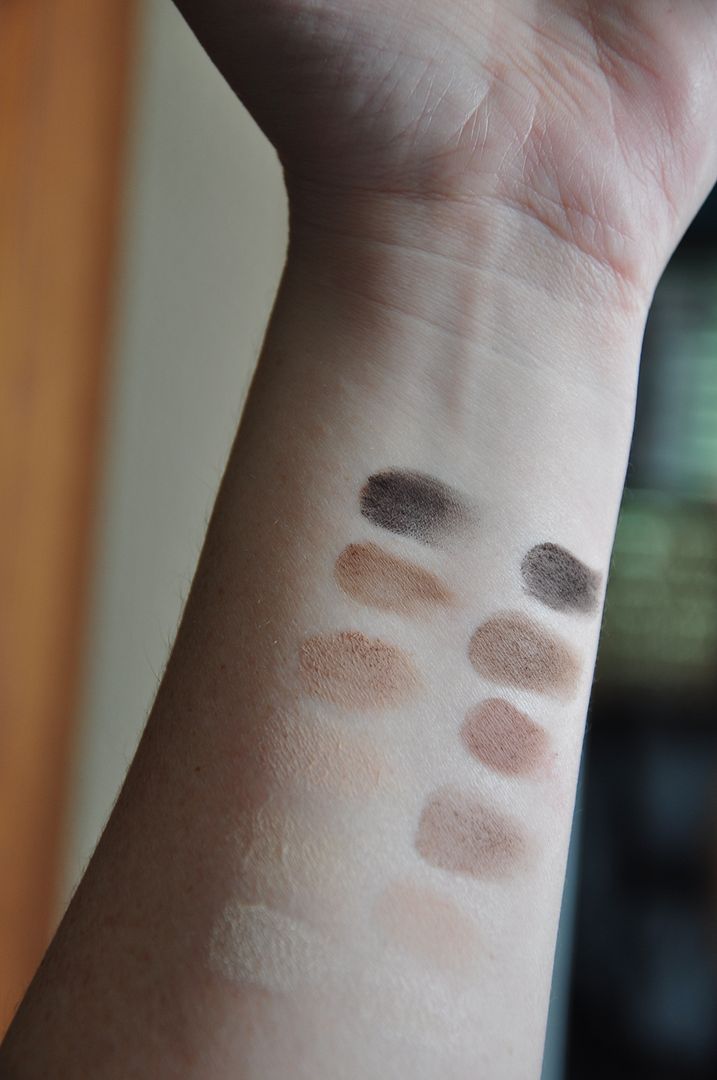 [the_ad id="4340″]
Venus (NBO) vs. Skimp (NB2) – Venus without doubt is more pigmented than Skimp. Venus is the only shade with a bit of shimmer, but the pigment really outdoes Skimp, in my opinion. Skimp is just too light, and not pigmented enough. However, I think these two shades are easily duplicated with other shadows outside of the Naked Basics palettes, so I'm not overly concerned with how they perform. I will say that Venus can be a bit chalky, and I much prefer the texture of Skimp.
Who wins?
Naked Basics Original
Foxy (NBO) vs. Stark (NB2) – Clearly Stark outdoes its NBO counterpart. I swatched, and swatched, and SWATCHED and still I couldn't get Foxy to give me a wonderful color. Stark is more pigmented, is and in general gives a better color. Both are similar in texture.
Who wins?
Naked Basics 2
Walk of Shame (NBO) vs. Frisk (NB2) – These are the most drastically different corresponding shades of the two palettes. In my opinion, neither is really like the other. It would probably make more sense to compare WOS to Stark, but since the palettes aren't set up that way, I won't compare those two. Both are well pigmented and vastly different colors. WOS is a very flesh-like color, while Frisk is a meadium, neutral brown.
Who wins?
This one is a toss up and comes down to preference. I prefer to have a bit of the medium shade in Frisk since both palettes have a lighter flesh shade.
Naked2 (NBO) vs. Cover (NB2) – Naked2 is clearly lighter than Cover. Even though their depth is different, I think these 2 shades can compare nicely. Cover is warmer than Naked2, but still when swatching, I feel like Cover gives much more pigment. Naked2 was one of the shades I had to swatch multiple times, where as Cover was a one and done color!
Who wins?
Naked Basics 2
Faint (NBO) vs. Primal (NB2) – Both Faint and Primal work as great crease colors. They can give depth to the eye and can really liven up a neutral look. When comparing these shades, it comes down to texture for me. Faint feels a bit light and chalky and Primal is just smooth and silky.
Who wins?
Naked Basics 2
Crave (NBO) vs. Undone (NB2) – These are the "black" shades of each palette. Honestly, neither palette would be complete without them. Both are pigmented. Crave tends to be a little more charcoal colored when thinned than Undone, which is surprising because in the palette, Crave looks like the darker color. However, when applied, Undone is much deeper than Crave. I like both of these colors for use in the "outer v" of the eye to add definition. The texture of Undone is far superior to Crave, in my opinion, though… and I feel like Crave doesn't give me the results I like when used as a liner.
Who wins?
Naked Basics 2
[the_ad id="4340″]
I think both of these palettes are great additions to any makeup collection. However, they are really similar and I can see why someone would only want to purchase one. In my opinion if you are on the fence, go with Naked Basics 2. The overall texture of the shadows is better, the pigment is better, and I didn't have that nasty cat-pee smell like I did with Naked Basics Original. Seriously. Apparently it wasn't just me. After I got NBO, I googled "Naked Basics cat pee" and there were many other reports of the smell, too. Gross.
Do you have a Naked Basics palette, or both? Do you like it? Which one is your favorite?
Linking up with Joey and Tiffany!