I'm kicking it old school today with a confessions sash because life is insane and I just need to vent. Ok? Ok.
I Confess: Life has been pretty dang hard lately. It has seemed to be all work and no play, but that's life, right?
I Confess: I've been loving the crap out of my chambray shirt from Trunk Club. I wear it a few times a week.
I Confess: I took advantage of a little retail therapy after a hard day yesterday… but no makeup as much as I was tempted.
I Confess: I ate way too many chocolate chip cookies this week.
I Confess: I am incredibly thankful that it's Friday so I can let off some steam.
I Confess: I've spent way too much time on Pinterest this week.
I Confess: I binge watched Fuller House this week and I'm not even ashamed.
I Confess: My photography set up as completely taken over our office. Oops.
I Confess: Even though I've been getting up at 5 am everyday, I cannot get everything done. O.o
I Confess: I desperately need some time off, and I may sleep straight through the 2 days I get off for Spring Break.
I Confess: I think I want an apple watch. Yay or nay?
I Confess: A few of us want to give you a fun night out… so join in our giveaway!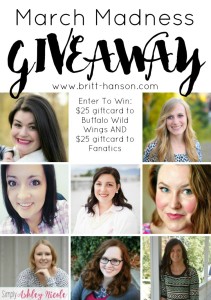 My Little Sunshines | Messes To Memories
The Kelly Lorene Blog | Love Ashley | Making Mrs. M
Simply Ashley Nicole | The Morrell Tale | Fashion + Feathers
a Rafflecopter giveaway
The giveaway will run 3/1 through 3/8, and it not affiliated with Buffalo Wild Wings or Fanatics. Good luck!